The Landscaping & Sprinkler Services
In Saskatchewan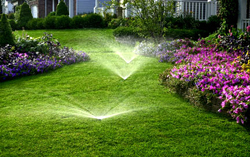 Sprinkler System Installation
STI Landscaping installs any type of sprinkler system for small yards or several acres of commercial property alike. We have underground solutions, which offer advanced technology and water saving features so your grass retains the right amount of moisture. If you are in need of repairs for your current sprinkler system, contact us today!
Brick Work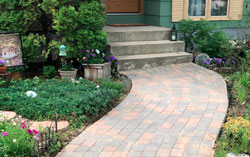 Add structural support and the finishing touches to your landscape design with brick work from STI Landscaping. We build patios and retaining walls for homes and businesses, creating custom layouts to fit your property.
Sod Installation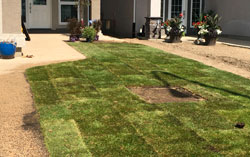 We also install sod to quickly cover large areas of soil with durable green grass. We can custom cut rolls of sod to order and our landscapers will fit the sod precisely to your property lines.
Trees & Shrubs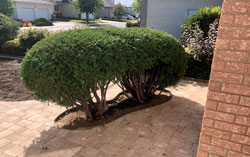 Trees and shrubs are most often a part of a beautiful landscape design, and we plant trees and shrubs to enhance your property.
Backfilling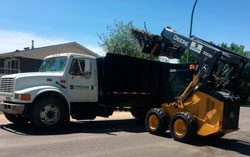 We also back fill areas that were previously excavated, making room for new landscaping construction. Our experienced landscapers know how to stabilize dug up or torn out areas, restoring them to a flat, usable surface.
Grading & Leveling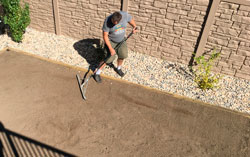 STI Landscaping grades and levels any type of property. Whether you need a flat area to install a pool or deck or require a sloped driveway, we have the machinery to meet simple and advanced landscaping needs.
Skid Steer Work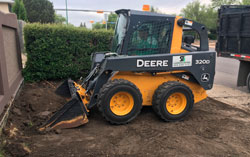 For all your excavating needs, we have skid steers available to do the job, including Mini 36" wide Bobcats. You can rest assured your project will be done right.
Xeriscaping
STI Landscaping specialized in xeriscaping, a water conservation concept used in landscaping designs. Combining energy efficiency and attractive features, we arrange plants and structural elements in a way that optimizes water retention. Ask us for more information.
Concrete Removal
We also remove concrete areas of any size. Whether you're restoring an area back to nature or preparing to renovate with new concrete, we can help.
Free Estimates
STI Landscaping offers free estimates on project of any scale, with no obligation and a flexible fulfillment schedule.
Synthetic Turf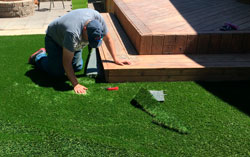 If you're looking for a lawn solution that saves water and requires little maintenance, synthetic turf landscaping lawn services may be just what you need. STI Landscaping can create a lawn made of artificial grass for residential and commercial properties of any size. Synthetic turf is ideal for every golf course's putting greens. The materials are 100% recyclable and durable enough to last several years. Ask our experienced staff for more info.